View R9 Tribal IAQ & Health Network 1/22/18 Announcements
R9 Tribal IAQ & Health Network
……….……..……Announcements – 1/22/18..…………..….….….
Attached: Renter's Healthy Home Checklist 2017-2018 Calendar by Tribal Healthy Homes Network
The information provided in this email update and via links to non-EPA websites is for informational purposes only and is not intended to imply sanction or endorsement by the U.S. Environmental Protection Agency or the U.S. Government.
To join or leave the R9 Tribal IAQ & Health Network, please e-mail me at pathak.priyanka@epa.gov. You do not have to be in Region 9 to be added to the listserv – anyone can join. If you would like to share announcements with this group, send it my way too!
-Priyanka
(Region 9 Federal Tribal Affairs Committee is copied.)

----------------------------------------------------------------------------------------------------------------------------
Priyanka Pathak, MPH | pathak.priyanka@epa.gov | (415) 972-3576 | Air Toxics, Radiation, and Indoor Air Office
US Environmental Protection Agency, Region 9, home to 50 million people in Arizona, California, Hawai'i, Nevada, the
Pacific Islands, and 148 tribal nations.
----------------------------------------------------------------------------------------------------------------------------
Renter's Healthy Home Checklist 2017-2018 Calendar by Tribal Healthy Homes Network – Attached
Pediatric Environmental Health Specialty Units (PEHSU) resources on marijuana
https://www.pehsu.net/cgi/page.cgi/_search.html?searchterm=marijuana
This Tuesday, January 23:
Public Health Consequences of E-Cigarettes: Report Release
On January 23, 2018 at 11:00 AM ET, six members from the Committee on the Review of the Health Effects of Electronic Nicotine Delivery Systems (ENDS) will present via webinar the findings of its report on public health consequences of e-cigarettes, which will be available online at the same time.

The committee was convened to evaluate the available evidence of health effects related to the use of e-cigarettes/ENDS and identify future federally funded research needs. The committee will present on specifics of the report, including the role of e-cigarettes in smoking initiation and cessation, short- and long- term health effects in users and non-users, and research that should be a priority for federal funding.

Register now to view the live webinar.

Tweet about it: Register now for the 1/23 NASEM report release webinar on public health consequences of e-cigarettes. http://bit.ly/ecighealthwebinar #eCigHealthEffects

Share it on Facebook: On January 23 at 11 am ET, the National Academies of Sciences, Engineering, and Medicine will release a report on the consequences of e-cigarettes for public health. Register now to watch the webinar: http://bit.ly/ecighealthwebinar #eCigHealthEffects
Want more emails like this? Sign up for all of our emails on this topic.
Register Today for Radon Protections in New Homes Webinar
Having trouble viewing this email? View it as a Web page.

Radon Protections in New Homes

January 30, 2018 at 1:00 p.m. EST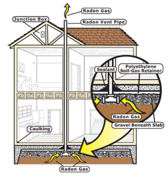 Join the Indoor airPLUS Team on January 30th at 1:00 p.m. EST for our Radon Protections in New Homes webinar to learn how the Indoor airPLUS Program protects homeowners from radon in new homes. Radon-resistant construction is becoming a focal point in the high performance building industry. Learn from seasoned radon expert, Bruce Snead, of the Kansas Radon Program about how to avoid common mistakes in design and installation of a passive system. Bruce is the Director of the Engineering Extension at Kansas State University, which provides technical assistance for EPA to promote public awareness and increased testing and mitigation for radon in homes, multifamily buildings, and schools.
You'll also hear about new radon policy updates and exceptions in the Indoor airPLUS Construction Specifications.
Participate in National Radon Action Month with EPA's Indoor airPLUS Team
Radonis one of the most important indoor air quality contaminants.You cannot see, smell or taste radon, but millions of homes in the United States have elevated levels.Radon is a naturally occurring radioactive gas that causes lung cancer, and high levels have been found in every state. Testing for radon is easy, and fixing high radon levels uses simple, straightforward techniques and materials. You can protect your family by fixing high radon levels or buying a home with radon-reducing features.
Indoor airPLUS is a voluntary partnership and labeling program that helps new home builders improve the quality of indoor air by requiring construction practices and product specifications that minimize exposure to airborne pollutants and contaminants. Enhanced indoor air quality protections in Indoor airPLUS qualified homes include protections such as moisture control, radon protection, pest prevention, improved HVAC systems, combustion pollutant control, and low-emission building materials.
Please feel free to contact us with any questions you have about Indoor airPLUS. Thank you for your commitment to the Indoor airPLUS Program!
_____________________________________________________________________________________






Don't Mess with Mercury – A mercury spill initiative for schools from the Agency for Toxic Substances and Disease Registry

This website includes kid-friendly interactive material and teacher-friendly lesson plans. It also explains how mercury spills are cleaned up.



---